Our School
Exam Success
2022
GCSE
"The students at Cardinal Newman have not only pulled it off again, but totally surpassed themselves. The students have increased the grades from the last set of examined exams in 2019.  We cannot forget that this year all these students have done an incredible job at the first time of asking of formal public exams having spent a significant amount of their senior school life learning online.  I am incredibly proud of each and every one of them and these results each tell a story of overcoming adversity and resilience.  Over 70% of all students achieved the Basic passes (4+) and 52% achieved the strong passes in both (5+) in English and Maths and 26% of grades were at the very top level of 9-7 which is an extraordinary achievement!  The students now have the results that they need to take the next steps in their educational, training or work journey.  We are very excited to be welcoming a huge number back to Newman Sixth and wish all those that are going on to pastures new every blessing.  Cardinal Newman is a special place and seeing the students celebrating with their teachers, parents and each other was incredible this morning!"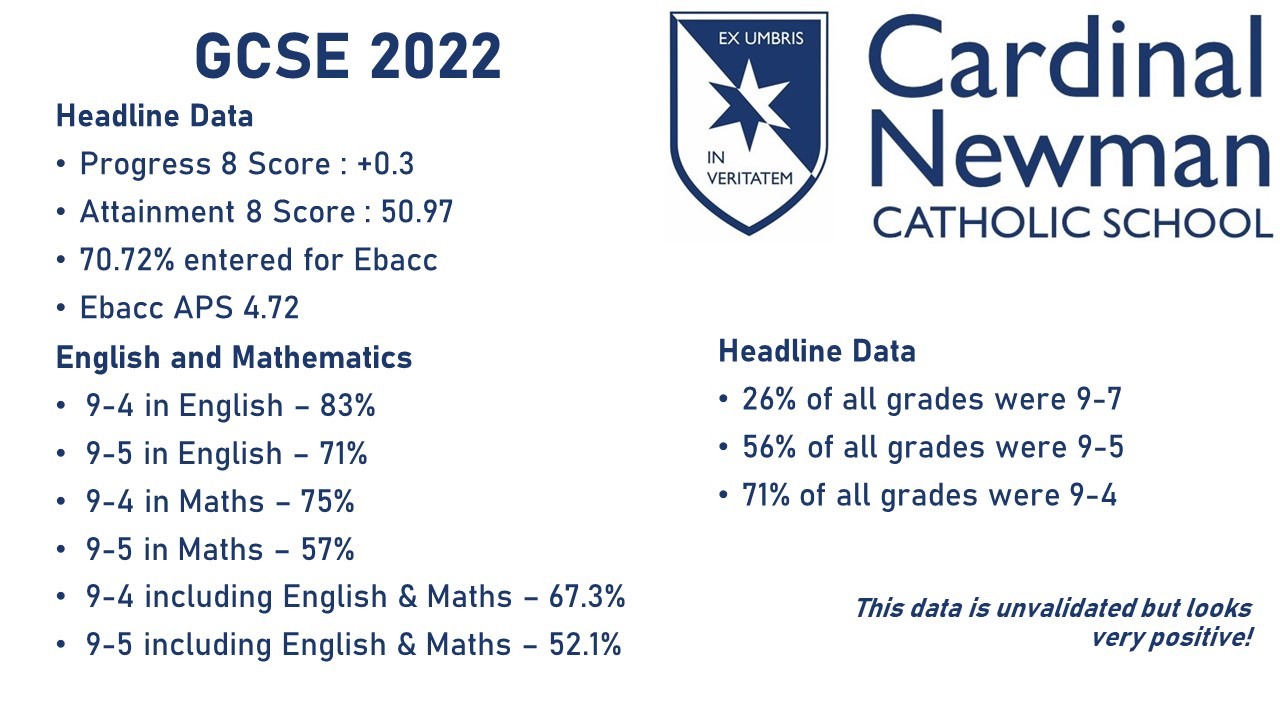 A-Level
"The Year 13 students who have just completed their A-Levels and Vocational Qualifications and achieved a tremendous set of results should not just be congratulated but recognised as an outstanding group of young men and women.  Not only have they had to deal with all that gets thrown at you as you navigate A-Levels but they are also the year group who were not able to sit their GCSE exams due to the COVID pandemic.  What they have achieved is truly incredible. 20% of all grades were As and A*s with 12 students achieving a clean sweep of all As and A*s.  48% of all grades were A*-B and we had a 99% pass rate.  This is a tremendous achievement and considering the circumstances the best set of results that the students could have achieved.  Congratulations to all the students and thank you to all the staff who went above and beyond in their support for these fine young men and women in the build up to their exams and deadlines.  As headteacher I couldn't be more proud of what they have managed to achieve by displaying resilience and success through their hard work, endeavour and living out our school motto of 'Together towards our Lord, through learning, love and faith.'
We have students heading off to study medicine, law, history, nursing, business, engineering, accountancy and many many other courses.  Others who are doing degree apprenticeships and a whole host of other avenues to continue to being the best version of themselves.  These results have enabled them to make these steps.  Well done!"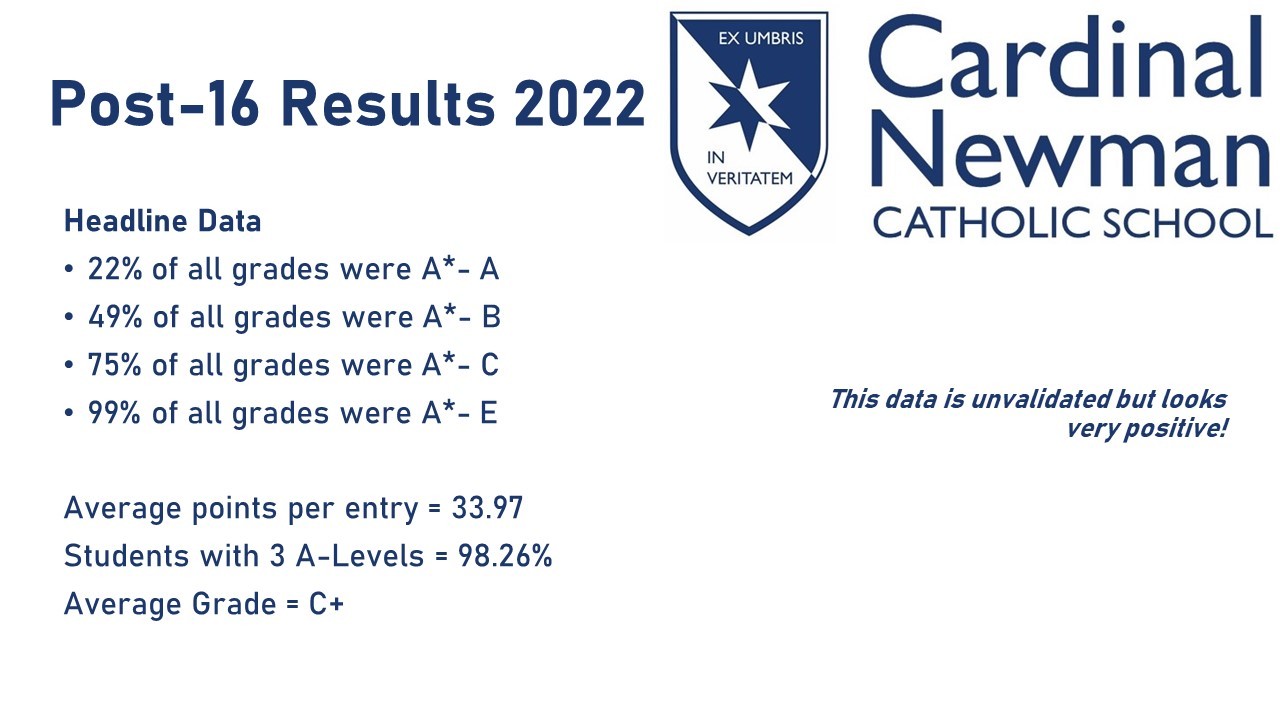 2021
"The students at Cardinal Newman have performed to one of the highest levels of performance the school has ever seen.  The Teacher Assessed Grades we submitted were the result of a rigorous process including sets of mock exams and assessments – which included unseen full past papers, marked to the exam specification criteria and standardised - so we are sure that they are a true reflection of their ability. Students and teachers have worked under exceptional circumstances over the past 18 months and I am incredibly proud of the results that they have achieved. They have had to overcome challenges that no other year group has ever faced and they are to be congratulated on these results".
Universities our students will be bringing our set of values to include; Oxford, Kings College, Reading, Kent, Keele, York, Liverpool, Bristol, Loughborough, London, Leeds, Bath, Nottingham, Royal Holloway, Brighton, Exeter, Leicester, Portsmouth, Bournemouth, Birmingham, Sheffield, Brunel and many other!
Several our students are undertaking apprenticeships up and down the country including with Ernst & Young, Quantity Surveying, Court Clerking, IT, Engineering and Finance & Business. 
2020
Obviously this has been a challenging time for all in the Newman community. But as always students and staff have risen to the challenge and, as in previous years, many of our students will now be going on to some of the best universities in Britain or into high quality apprenticeships. Following the cancellation of the exams this year we now need to focus on ensuring that every single one of our students moves on successfully to the next stage of their education and/or employment. We are here to provide our students with whatever support they need at this time.
Following the cancellation of the A level exams, the process of calculating a grade for every student in every subject had been undertaken by Newman teachers in a rigorous and professional way to ensure that each individual got a fair and a just outcome.
That said, the students at Newman College have once again achieved excellent results in their A levels. Over 50% of all grades awarded were A*-B while 75% were A*-C. In the most recent government performance tables Newman6th was in the top 3% of Sixth Forms in England and Wales.
Our academic success has always been inextricably linked with our focus on nurturing young adults and preparing them in every way for what lies ahead, whether that be academia or the world of work. We encourage everyone who attends our college to go on from here, always keen to learn about, and care about, the world around them.
"It's not about the grade, it never was… Please continue learning, but not for the test. Continue because it is all still (and always was) worth knowing."
We could not be prouder of our students, past and present, for the contribution they are making and will make – to their families, to their friends and the communities in which they work and live, and the staff are very much looking forward to welcoming our new cohort in September, face to face.
2019
Key stage 4
Progress 8 score          0.29 
Attainment 8 score     47.09
Percentage of pupils

who got a good pass in English and Maths

65%
Percentage of pupils achieving the English Baccalaureate combination of subjects
(this means pupils who got a GCSE grade C or above in English, maths, 2 sciences, a language, and history or geography) 9%
Student 'destinations' 2015 - the most recent figures available:
The percentage of students who continue in education or training
Full Time Education 97.2%
Apprenticeships 1.2%
Not in Education, Employment or Training 1.2%
Unknown 0.4%
16 TO 19 (Key Stage 5)
The progress students have made in English and Maths:  English Progress 0.40; Maths progress 0.04.
The progress students have made compared with students across England +0.05
The average grade that students in your college get at 16 to 19 study (key stage 5)  C
Student 'retention' (the percentage of students who get to the end of their study programme) 98.3%
Student 'destinations':
percentage of students who continue in education or training 86%, or
move on to employment at the end of 16 to 19 study 11%