Trust
Governance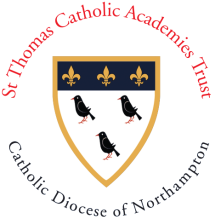 "The Glory of God is a Human Being Fully Alive!"
About us: 
The St Thomas Catholic Academies Trust is the 'Southern MAT' (Multi-Academy Trust) of the Diocese of Northampton. There is also a Northern MAT. Currently, there are 15 schools in our Trust, and this is set to rise further in line with the diocesan vision for its Catholic Schools, which embraces them all. The Trust formed on 1st February 2020 following the merger of two existing MATs, the St Alban Catholic Academies Trust and the St Peter Catholic Academies Trust.
Catholic schools in the diocese have gathered for many years in local 'Partnerships'. The two earlier Trusts grew out of these groups in two geographical areas:


Luton, Dunstable and Houghton Regis:
Cardinal Newman Catholic School (Secondary)
St Martin de Porres Catholic School (Primary)
St Margaret of Scotland Catholic School (Primary)
St Vincent's Catholic School (Primary)
St Mary's Catholic School (Primary)


Slough:
St Joseph's Catholic School (Secondary)
St Anthony's Catholic School (Primary)
St Ethelbert's Catholic School (Primary)


In addition to the above 8 Trust schools, the following schools have since been welcomed into the Trust:
Bucks:
Our Lady's Catholic School (Primary)
St Edward's Catholic School (Junior)
St Joseph's Catholic School (Infant)
St Joseph's Catholic School (Primary)
St Louis Catholic School (Primary)
St Michael's Catholic School (Primary and Secondary)
St Peter's Catholic School (Primary)
There are further Voluntary Aided schools in Luton and Slough, which we hope to welcome into the Trust in the near future. 


Our Mission:  "The Glory of God is a Human Being Fully Alive!"


Human flourishing and the uniqueness of every individual as a child of God is at the heart of our Catholic educational enterprise. In keeping with Catholic Social Teaching, all our schools will be held together as a family, in 'Solidarity', while each school, and each 'Partnership' area, will maintain and nourish its own individual identity, in keeping with the principle of 'Subsidiarity'.
Our schools will be places in which every child, young person and adult is able to thrive – discerning and developing their gifts; growing closer to God as individuals; learning to be the best they can be.
They will be places where God-given talents are celebrated and where learning is seen as a joyful process – where every individual is encouraged and supported so that they can grow in wisdom and grace, knowledge and skills, and contribute to the Common Good.
Our schools will seek:
to bring each person closer to Christ every day – through prayer and reflection
to ensure that children, young people and adults within the school community are not only loved: they know they are loved
to work together across the Partnership and across the Trust – to share good practice, to learn and grow together, to provide opportunities, and to support one another in developing the best possible education for the children and young people in their care
to maintain the highest standards of performance
The Structure of the MAT:


In our MAT, each school operates individually in its day-to-day life and has its own Local Academy Committee (formerly known as a governing body).
Each school is also a member of a local Strategic Partnership Group, in which all the Catholic schools in the area work together with a School Improvement agenda.
Working through and across the whole MAT structure is the professional Executive Team, who are accountable to the volunteer Board of Directors.

Executive Team:


Strategic Executive Leader:  Joe Richardson
Joe has worked in Catholic Education for 25 years.  He has extensive experience in school leadership and over 10 years of experience as Headteacher across three schools in the Diocese of Northampton, including three years as both MAT CEO and Headteacher.  He was involved in the successes at St Thomas More School, Bedford, supported rapid improvement at Thomas Becket School, Northampton, and more recently maintained the very high standards achieved at Cardinal Newman School, Luton. 


Executive School Improvement Coordinator: Ciran Stapleton
As Headteacher of St Joseph's Catholic High School, Ciran has transformed a school at serious risk of closure to one that is now an outstanding Catholic School.  He repeated many of these successes through work to support Thomas Becket School, Northampton.  With a determination that every child in every school should have the very best opportunities in life, Ciran lives out the vision of the Trust through his leadership and has demonstrated time and again his capacity to deliver school improvement not just through service in his own school, but more widely across our family of schools.


Chief Finance Officer: Denise Jay
Denise has extensive experience working across both business and education.  She has been instrumental in securing the financial health of schools across the Multi Academy Trust and has considerable skills in all aspects of estates and business management.  Denise has overseen many significant building projects and is committed to ensuring the students in each of the schools secure the greatest benefit from every penny that is spent across our family of schools.


Members
The Members of the Trust have a limited and distinct role. They are the original signatories to the Memorandum of Association and the Articles of Association and are tasked with assessing if the board of trustees is performing well and ensuring that the charitable object is being fulfilled:
The Members of the St. Thomas Catholic Academies Trust are:
| | | |
| --- | --- | --- |
| Bishop of Northampton | Original (signatory) members | From 01/02/2020 |
| Duns Scotus Trust | Original (signatory) members | From 01/02/2020 |
| Episcopal Vicar for Education | Original (signatory) members | From 01/02/2020 |
Our Company Details
St Thomas Catholic Academies Trust 
St Martin De Porres Catholic Primary School
Pastures Way
Luton
LU4 0PF
Telephone: 01582 361600 
Email: admin@stcat.co.uk 
We are a registered company in England and our company registration number is 09660515