Information
Parents & Students
Parents & students - Careers Education Information Advice and Guidance 
Welcome to the new academic year, I am delighted to inform you that Work Experience will take part for this year's current Year 10's
Students will take part in a one weeks placement next year, Monday 27th June 2022.
Please see attached a Parent/Student Work Experience Handbook along with full instructions for access the Work Experience website
Any further questions please contact Mrs McNeil via email.
cmcneil@cardinalnewmanschool.net
Welcome to Work Experience Pack
The Parents' Guide, to provide parents with the information they need to help their teenager make the right choices to create successful futures after GCSE and Sixth form
Many thanks
Mrs McNeil
Work Experience - Year 10 
Post-16 Pathway Choices 
College & Sixth Form Information
ST GEORGE'S SIXTH FORM
Application Deadline for September 2023 Entry for External Applicants: Friday 3rd February 2023
External Students for September 2023 Entry 
To request a Sixth Form Application pack for Year 12 entry in September 2023, please click here
Please email 6thformadmin@stgeorges.herts.sch.uk if you are unable to access the link.  
Application Packs, including a copy of our Sixth Form Prospectus and an invitation to our Opportunities at 16+ Evening on Wednesday 18th January 2023, will be distributed soon. 
Careers Hub Websites
Labour Market Info
See below for the latest LMI presentation from SEMLEP. More info can be found on their website 
SEMLEP: Live Career Broadcasts for Students
Insight into Medicine conference for year 9s, 10s and 11s and Get into Medicine conference for year 12s

Insight into Medicine conferences on Saturday 19th November 2022 and Saturday 3rd December 2022 (3-7pm) are fantastic opportunities to listen and speak to doctors live about their medical specialities.

This Saturday's amazing guest speakers are:

- Dr Mark Sanders on Medical Education
- Dr Ashriina Nair Ravindran on Plastic Surgery
- Dr Sophie Collinson on Anaesthetics

Students can learn about their day-to-day role, ask questions and receive their answers live and gain full understanding of what it means to work within medicine as a doctor.

Your students can register for the next Insight into Medicine Conference below:
https://medicmentor.co.uk/insight-into-medicine-conference/

For year 12s we have our Get into Medicine conference.

Dr Kennedy and Dr Siva will share what it's like to be a Doctor, and how to make your student's application stand out when it's time to start their medical application process.

The application process for getting into medicine is different then applying to other courses. Dr Siva and Dr Kennedy will outline and guide the students through what the application process looks like.

We'll also be joined by a Medical School Student who will share their insight into what it takes to get accepted into Medical School.

Sunday 27th November or Saturday 10th December
10am - 3pm

Your students can register for the next Get into Medicine Conference below:
https://airtable.com/shr66li3bqG3ZpkPM
Morgan Stanley Virtual Apprenticeship insight events 

JOIN US AT OUR VIRTUAL APPRENTICESHIP INSIGHT EVENTS
At Morgan Stanley, we offer a range of Apprenticeship opportunities aimed at school leavers. Apprenticeships offer an alternative route by providing the opportunity to study towards a qualification, whilst gaining practical industry experience and earning a salary. Join us at our Apprenticeship Insight Events to learn more about what Programmes we offer across our London and Glasgow offices and what it's really like to be an Apprentice at Morgan Stanley.
 

MEET OUR APPRENTICES
 
Date: Wednesday 30th November 2022
Time: 16:30-17:30 (GMT)
Application deadline: Tuesday 29th November 2022
Platform: Zoom
 
Hear first-hand from our Apprentices across London and Glasgow what it's like to work at a Global Financial Services Firm. Find out what exciting projects they get to be a part of!


GLASGOW: INSIGHTS INTO TECHNOLOGY, OPERATIONS, FINANCE
 
Date: Tuesday 6th December 2022
Time: 16:30-17:30 (GMT)
Application deadline: Monday 5th December 2022
Platform: Zoom
 


LONDON: INSIGHT INTO TECHNOLOGY
 
Date: Thursday 8th December 2022
Time: 16:30-17:30 (GMT)
Application deadline: Wednesday 7th December 2022
Platform: Zoom
 


CV & INTERVIEW SKILLS WORKSHOP
 
Date: Wednesday 11th January 2023
Time: 16:30-17:30 (GMT)
Application deadline: Tuesday 10th January 2023
Platform: Zoom
 
Learn about our application process step by step to set you up for success.
 
'Your Child, Their Future' Event on Thursday 24th November from 6:00pm – 7:30pm.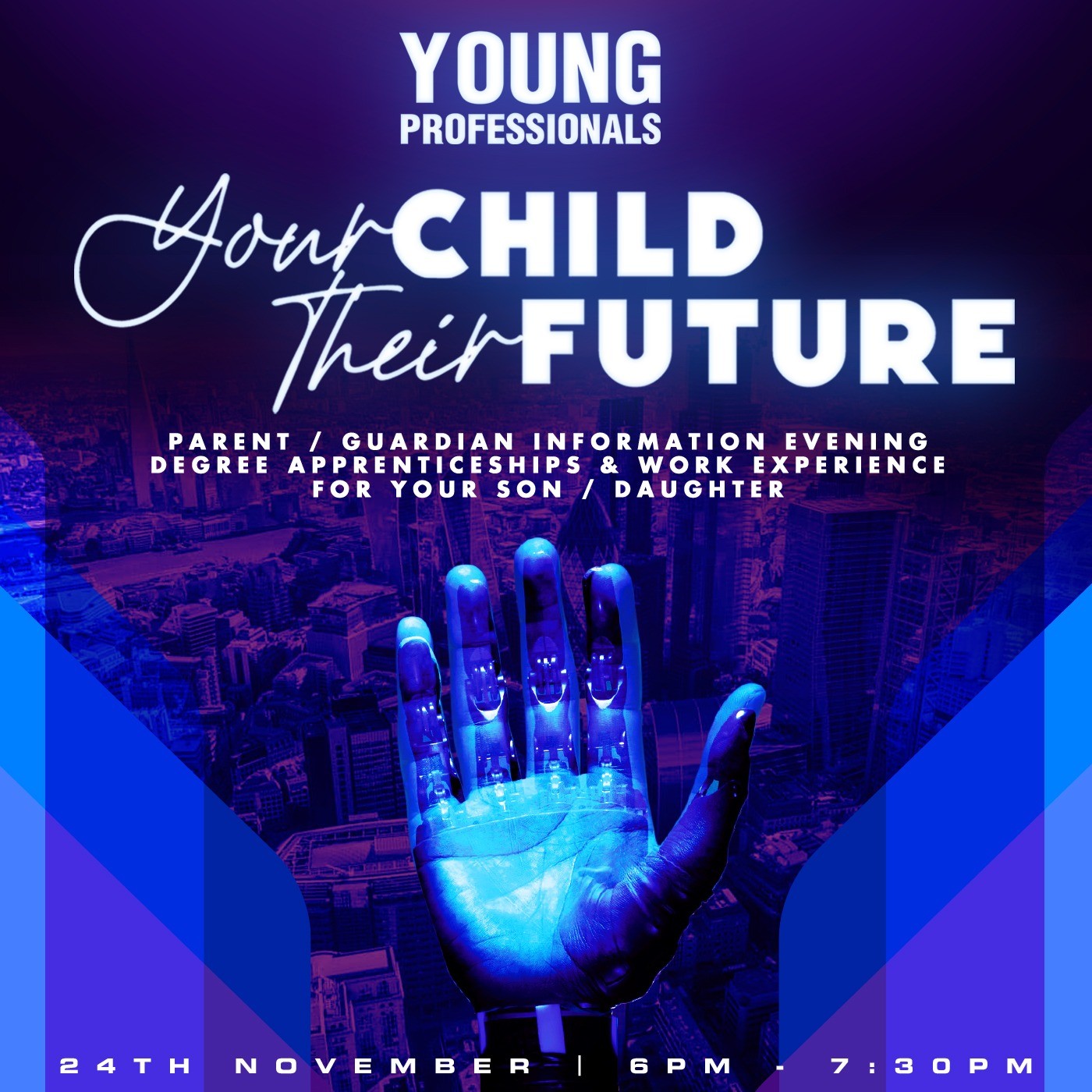 This event is completely free of charge, and it will be running via Zoom on Thursday 24th November from 5:00pm - 6.30pm. We encourage you to join this event virtually with your son/daughter/young person, or the whole family and ask any questions that you may have, directly to leading employers. 
The registration link can be found below here, so please do sign up if you would like to attend. The zoom link will be emailed to you closer to the time.
We have leaders from some of the biggest employers in the world including KPMG, BT Group, Capgemini, British Airways, Linklaters and more who will each come along to talk to you, as parents and guardians, about how your son/daughter/young person can best navigate the job market to find some incredible work experience/internship placements, as well as graduate and apprenticeship opportunities. We will be sharing some useful tips around psychometric testing, how to prepare for assessment centres, putting together a CV, filling out application forms, as well as advice on how you can prepare your child/young person for the working world.
BLOOMBERG 
Would you be interested in a career at one of the most successful limited partnerships in the world? 
We have an exciting opportunity to announce with Bloomberg, the global financial, software, data, and media company. On Monday 12th December at 5pm - 6:30pm we will be hosting an online webinar with Bloomberg, to give you an insight into this global tech, finance and media firm and the career opportunities available to you. 
Being such a huge global company comes with a huge range of roles. Bloomberg has opportunities available in Global Data, Financial Products, Engineering, Operations, Media and News, Corporate Functions and External Relations and many other business functions.
Not only is Bloomberg noted as one of the most important tech firms in history, but they also continue to harness the power of technology today and connect the world's decision makers to accurate information on the financial markets, to help them make faster and smarter decisions.
You could possibly find yourself working at Bloomberg's European headquarters in London, which achieved the highest sustainability rating of any commercial building in the world when it was built!
Key event details: 
·       An insight into Global Finance, Tech, News and Media firm - Bloomberg
·       Monday 12th December from 5pm - 6:30pm 
·       Online webinar so you join us from anywhere in the country (via Zoom)
·       Find out more about Fintech, media and the limitless career opportunities 
With offices all-round the globe, and career opportunities in almost every sector - this is not an opportunity to miss! 
Click here to sign-up now:
Teaching & Learning